Mobile Robotics CSC 290 (Spring 1998)

---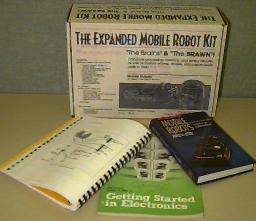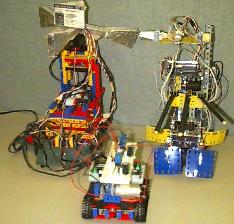 Before. . . . . . . . . . .After!

The Official Students' 290 Page

Administrative Information

Instructional Materials

Assignments and Exercises

Related Links
MyoElectric Locust , or M.E.L., is a three-wheeled robotics platform that is controlled by locust flight muscle activity. The locust is tethered to a support on the platform. Electromyographic recording electrodes are then inserted into the left and right forewing first basalar flight muscles (a pair of muscles that controls the timing of the downstroke of the wings). The recording electrodes pick up electrical impulses in the muscles when they are activated by the locust to contract. While flying, locusts steer by asynchronously activating the left and right muscles. This changes the timing of the left and right downstroke which changes the left-right balance of aerodynamic forces. The electrodes let us "eavesdrop" on the electrical activity of the muscles and we use this information to control the electronics of the platform. So...when the locust flaps its wings, the car goes forward and in the direction the locust is trying to fly.

Computer Vision and Image Processing Tutorial with HIPR .

What is VideoScript? .

A new use for your Palm Pilot .

Randal Nelson's Interview on NPR's Weekend Sunday show 13 August 2000.

Comedy Channel's Battle Bots. See robots battle to the death. We could enter and at least get to meet Donna D'Errico....

Robot Soccer! Real Robots Scoring Real Goals! Longstanding international contest... also you can enter a simulated team that plays you against another team client using a software server. Robocup , Robocup 2000.

Xerox Palo-Alto Research Center's Modular Robotics Website. I guarantee you you will not believe this. Check out the movie of the poly-robot that rolls along like the mythical hoop snake, tail in mouth, then unhooks and slithers along like a snake, then reassembles itself into a spider. Super creepy. A major tour de force!

Gnu Robots. .

Meat-eating Robots. .

Honda's Walking Robot I, with quicktime movies. .

Honda's Walking Robot II, with realviewer and quicktime movies (cool soccer ball action). .

UR's Mobile Robotics Research Group .

Mobile Surveillance .


Brown's Home Page
This page is maintained by CB.
Last update: 3.13.98.
---