Stelling 5-String Sunflower Bluegrass Banjo (Curly Maple)
Dear Chris,
I am sending your banjo out in the morning, May 16, 84. It is really a beauty, and in my opinion much nicer than the new bellflowers. As far as woods go there is no comparison. God bless you.

Sincerely,
Dan
Dan's Banjo Shoppe
Sorry!
All this material is gone. What you're seeing here is the ad I placed on eBay. Sorry if it's misleading... CB
I'm Chris Brown, a professor at U. Rochester in Rochester, NY. I got this Stelling Sunflower new in 1984 and played it in the group "Hard Cider" until 1990, when I went on sabbatical, the band disbanded, and I decided to try the classical guitar. This banjo has done a lot for me and It'll do the same for you. Here it is, in excellent condition with lots of extras.
In response to some email questions. There is some fret wear on 2,3, 4 in the obvious (G-chord) spots. In my opinion there are years of playing left before any new frets will be called for, but this may be a matter of taste. The playability seems fine and there are no associated buzzes. I'll try to get a measurement of depth soon.
There is one narrow indentation on the resonator that would have been a 3/4" long scratch if it had gone deeper. As it is the finish is unmarred and you have to get the light right to see it.
The following sections describe the items in the lot.
If you have any questions at all prior to bidding or anytime, feel free to mail me: brown@cs.rochester.edu
Banjo and Accessories
For more on the world's premier banjo builder, check out Stelling's Website. On the current price list, the Sunflower is $3300.
Sunflower Banjo Serial 2799 (Current new price is $3300). No dings in wood. Some of the less-accessible chrome could use some polish, most of it still looks fine.
HO railroad spike 5th string capo with spikes at 7th, 9th, 10th frets.
Original Hard Shell Case
Banjo Strap (leather)
3 Mutes
Picks
Bridges (Grover mounted)
2 Capos (one is a Shubb)
Extra Strings (several packages)
Clear head mounted
Original Head
2 Keith D-tuner mounted
2 Original tuners
Nut driver for head clamps
Manual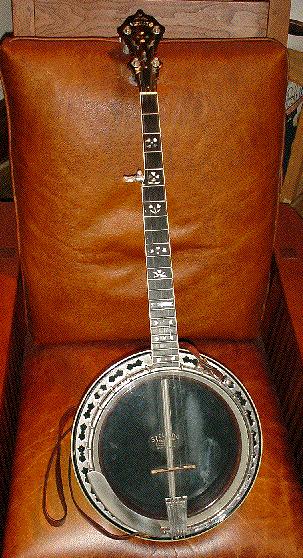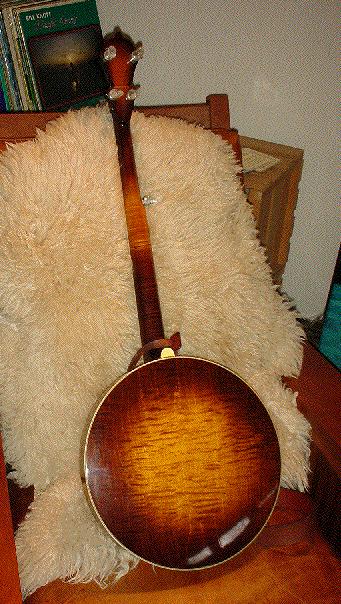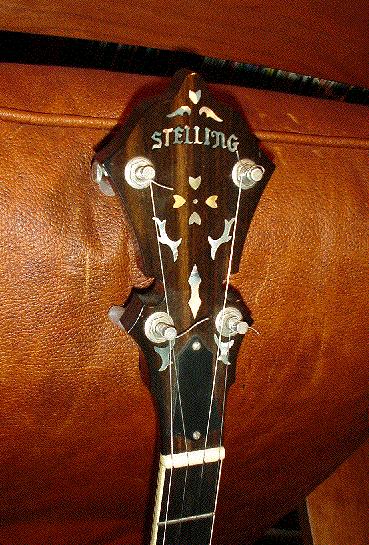 These images are half-resolution (quarter-sized). If you want to see full-resolution versions, here they are. Back ,
Front ,
Peg Head .

Books and Music
These are all included in the lot. All music is in tabulature notation unless otherwise noted.
Banjo Newsletter Collection, issues from 1977 and 78, complete (I believe) from 1979 through April 1991. 1977-1988 in BNL binders. These are the glory years of BNL, with complete tabs from contemporary great players and lots of useful features.
Bill Keith Melodic Banjo method (photocopy, title approximate).
Bill Knopf Melodic Banjo method (also photocopy, title approximate).
Bill Knopf 5-String Melodic Banjo Method (different from above, not a photocopy).
Bill Knopf 5-String Banjo Ragtime Classic Scott Joplin Rags (traditional music notation and tab).
Janet Davis Backup Banjo Great Stuff!
Peter Wernick Dr. Banjo Plays Hot Rize (32 Tabs.)
Peter Wernick Bluegrass Banjo method.
David Brody Banjo Players Fake Book (Tabs by Marty Cutler, Bob Carlin, Ken Perlman, others).
Tony Trishka Hot Licks for Bluegrass Banjo method.
Earl Scruggs ...and the 5-String Banjo classic method.
Peter Pardee Scales and Arpeggios for the 5-String Banjo
Peter Pardee Rolls
Smith Banjo in the Blue Grass method.
Carl Jackson Banjo Book (17 tabs plus licks).
Alan Munde Banjo Tabs from "Banjo Sandwich" album.
Bluegrass Banjo Fiddle Tunes collection.
Vince Sardovsky New Twists for 5-String Banjo fun instrumentals to exercise your tuners.
Fred Sokolow Ragtime, Blues, and Jazz for Banjo.
Al Jeffery Classicsl Banjo Weird but fun. 23 Classical guitar pieces arranged for banjo (trad. notation only).
Banjo Case Chord Book
Mel Bay DeLuxe Encyclopedia of Banjo Chords
Deering Banjo Maintenance Manual.
Some of my own tabs, including Bela Fleck and Alan Munde.
Three small binders with copies of my favorite BNL tabs.
Business Matters
You're bidding on all the above materials. It's probably unnecessary to say that Stellings are increasing in value and my guess is that some of the books are hard to find.
Buyer to pay actual charges for insured and tracked shipping with carrier of buyer's choice in addition to the closing auction price. Shipping charges will be computed at close of auction. I'll accept a money order or cashier's check. I'm told an escrow service like tradenable.com lets you use your credit card and builds in an approval period.
Shipping Information. This lot will probably ship in four boxes, total weight around 60-70 lbs (banjo, case and accessories come to about 25 lbs). My zipcode is 14627.
Chris Brown, University of Rochester, brown@cs.rochester.edu, 716-275-7852