Resources for CSC 2/454
The main computers for the course will be the machines of the Undergraduate CS Labs. If you don't have an account, see Marty Guenther in Wegmans 2513 (this goes for grads as well as undergrads). Machines in the Hylan Lab (room 301) are available to all students in the course. Machines in the Majors Lab (Wegmans 2009) are available only to undergraduate CS majors. Three of the lab machines (cycle1, cycle2, and cycle3.csug.rochester.edu) are dedicated to use as remote login servers for access across the campus network. For most of the work we will be doing an ssh terminal window to one of these machines will suffice. If you want to use graphical tools you'll need to run an X11 server on your machine. For MacOS, download the XQuartz package; for Windows, you might consider Cygwin/X).
Class tools will reside in the directory /u/cs254/bin; students should append this to their $path environment variable (this requires modifying your .profile [ksh/bash] or .cshrc [csh/tcsh] file; if you don't know how, ask the TAs). You are welcome to work on other machines if you like, but we do not plan to assist in porting any courseware. Moreover all assignments must run on the CSUG Linux machines, and will be graded only on those machines. Be sure to leave time to test your code on those machines if you develop elsewhere.
Please be sure to change permissions on any directories or on-line repositories in which you are doing class work, to make sure they aren't readable by others. Again, if you don't know how, ask the TAs.
All students should read the 2/454 discussion board and announcements page in Blackboard. Questions may be posted to the discussion board or sent directly to the instructor or the TAs. Any answer deemed useful to the class as a whole will be posted (with identifying information removed) back to the discussion board.
The professor's class notes are available on-line. Please note that they are provided on an "as-is" basis.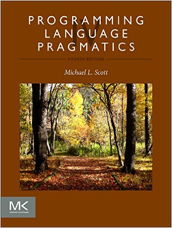 The text for this course is the fourth edition of Programming Language Pragmatics, by Michael L. Scott. Please do not try to make do with a previous edition of the text; too much has changed. A few copies will be placed on reserve at Carlson Library, for those who prefer not to buy their own (in my defense, at $75 and nearly 1000 pages, the book is 25% longer and 45% cheaper than the leading competitor). Some 360 pages of additional content (the "In More Depth" sections) is openly available on the publisher's web site (also the "PLP CS" link in the navigation bar at left). Errata for both the printed book and the companion site are available HERE.
The textbook includes a list of short-answer review questions approximately every 10 pages. I strongly recommend that you work through these each day before class. There is no better way to prepare for quizes and class discussions—or exams. Note: these questions are not intended to be difficult; they simply help to ensure that you have read the material. If you can't easily find the answer in the assigned reading, please ask the instructor or TAs. -->
Moriana Garcia is our assigned course librarian. She can help you find articles, books and online resources related to this course and familiarize you with the research process. To set up an appointment with her, go to http://libcal.lib.rochester.edu/appointments/ and select her name from the list, or send her an email at mgarcia@library.rochester.edu. Her office is in Carlson 313D.
Most of these texts are available from Carlson Library. Most of them will be on reserve. If you find one that isn't on reserve, please don't hog it forever. Also, please note that this list is far from exhaustive.
Programming Languages: Principles and Practice, third edition, by Kenneth Louden. Brooks/Cole Publishing Company, 2011. In the instructor's opinion, the 2nd-best textbook on language design :-)
Concepts of Programming Languages, eleventh edition, by Robert Sebesta. Addison-Wesley, 2015. A popular but less comprehensive text.
Essentials of Programming Languages, third edition, by Daniel Friedman, Mitchell Wand, and Christopher Haynes. MIT Press, 2008. A very different kind of PL text, and nicely done. Based heavily on interpreters written in Scheme. Excellent coverage of continuation-passing style.
Engineering a Compiler, second edition, by Keith Cooper and Linda Torczon. Morgan Kaufmann, 2011. The new standard text in compiler design.
Introduction to the Theory of Computation, third edition, by Michael Sipser. Thomson (Course Technology), 2012. The text for CSC 280. Good source for coverage of finite automata and context free grammars, the theoretical basis for scanners and parsers.
Computer Organization and Design: The Hardware/Software Interface, fifth edition, by David Patterson and John Hennessy. Morgan Kauffman, 2014. The undisputed leader in undergraduate-level computer architecture textbooks.
Computer Systems: A Programmer's Perspective, third edition, by Randy Bryant and David O'Hallaron. Prentice Hall, 2016. Sometimes used in place of Patterson & Hennessy as the CSC 252 textbook.
The C++ Programming Language, fourth edition, by Bjarne Stroustrup. Addision-Wesley, 2013. Not necessarily the best text on C++, but pretty good, newly updated for C++'11, and written by the language designer.
Tom Christiansen, brian d foy, Larry Wall, and Jon Orwant. Programming Perl, fourth edition. O'Reilly Media, 2012. The standard reference on the popular scripting language.
A growing number of programming language resources are available on the Internet. A few particularly nice resources include:
If you have suggestions to add to this list, please mail the instructor.
CSC 2/454 is not a course you can coast through. It's also not a course with a whole lot of "hand-holding." You will need to take responsibility for your own success. Do not wait until you're drowning before you ask for help.
Visit the TAs during office hours.
Attend workshop.
Visit the professor with any questions not handled by the TAs. Heck, visit the professor just for fun (I don't bite)!
Attend all the lectures.
Read the text (and answer the review questions!) before you come to class.
Talk to your fellow students. Share ideas (but not code).
Read the Blackboard discussion board every day.
Read your email every day, in case we sent you something.
Many of the programming assignments will require that you become an expert user of certain tools, notably the GNU assembler and debugger. These tools will be not be covered thoroughly in class. You are expected to read the manuals and then attend TA office hours for hands-on help.
---
Last Change: 05 December 2019 /