Message from the Chair
2019-2020 Year in Retrospect
From the outgoing chair, Sandhya Dwarkadas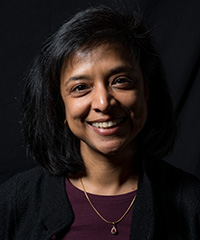 2019-2020 was a tumultuous year to say the least! It started out with the usual energy, activity, buzz, and challenges, and ended in a year that will be remembered by all. In the middle of March, in reaction to the looming pandemic, all of us scrambled to handle the sudden changes in our ability to mingle and interact --faculty and staff moved all operations, including instruction and research, online, while students had to find a safe space to finish up the spring semester.
In the midst of all this chaos, Randal Nelson, our colleague of many years, passed away unexpectedly on April 19, leaving our community in shock. Randal was an integral part of our department, influencing graduate and undergraduate education alike, and adding in innumerable ways to the life and culture of the department.
Despite these challenges and the unexpected loss of a dear colleague, our students, staff, and faculty rose to the occasion. Our CS community remained supportive, involved, and inclusive. Randal's robot construction class valiantly completed their class projects with the help of Ted Pawlicki, who volunteered to step in and guide the course to completion. The Computer Science Undergraduate Council (CSUG) stepped up its volunteer tutoring efforts online. Classes were completed online, research continued remotely, and all of us learned to settle into the new reality of juggling home and work in the same physical space, each of us in our own unique circumstances.
Gabby Stillman, our graduating senior and president of CSUG, aptly said, "As Computer Scientists, the ability to adapt to the unknown has always been an important skill to develop, and COVID-19 was no exception to that. I found the department's response to be encouraging; CSUG kept tutoring, a virtual town hall allowed us all to connect and share feedback with faculty, and we even found a way to celebrate the graduating class. My hope for a post COVID world is that we take all the empathy, willingness to collaborate, and understanding we've seen and continue it once things are 'normal' again. Fostering an inclusive, accessible environment in CS has always been a passion of mine, and our response to COVID makes me feel like we can continue to make positive changes in the future."
Indeed, Gabby, and congratulations to you and your classmates!
As did most of the country and the rest of the world, we celebrated the achievements of our students virtually this past year: 13 students graduated with a doctoral degree; 29 with a master's degree; 125 with a bachelor's degree; and 45 with a minor.
We welcomed two new faculty members and several new staff members this past year: Fatemeh Nargesian (PhD from University of Toronto) in the area of data management and Adam Purtee (a URCS PhD alum) on the instructional track. We also saw much transition among our staff. Staff Accountant Beth Corrigan retired; Graduate Program Coordinator Michelle Kiso moved to Baltimore, MD after having a baby; Undergraduate Program Coordinator Brynn Wilkins moved to Ithaca, NY to work at Cornell University; and, most recently, Undergraduate Coordinator Danielle Vander Horst joined Duke University to pursue a PhD in Archeology. We wish them all the best and are excited for the new chapters in their lives. Losing so many well-loved and excellent staff has been mitigated by the excellence of our new hires: Jennifer Brennan, Sara Klinkbeil, Elaina McKie, Amanda Rigolo, and Emily Tevens. We truly appreciate how they have stepped up through these difficult times.
On the education front, there were several much-needed additions as well as exciting new offerings. Given our growing major, our introductory and core required courses are now taught each semester, increasing flexibility in curriculum planning for the students.  Zhen Bai and Ted Pawlicki each received Sykes awards to develop new courses in AR/VR Interaction Design and Quantum Computing, respectively, this past fall and spring. We worked with faculty in the Goergen Institute for Data Science, the Philosophy Department, and the Simon Business School, to improve our interdisciplinary curricular offerings, including a cluster in the ethics of technology and an information system track for our business majors.
On the research front, many of our faculty members conducted interdisciplinary research, with collaborations across multiple departments in the Medical Center, the Warner School of Education, humanities and social sciences (including Linguistics and English), Brain and Cognitive Science, Physics, the Laboratory for Laser Energetics (LLE), as well as all of the departments within the Hajim School of Engineering (Biomedical Engineering, Chemical Engineering, Electrical and Computer Engineering, Mechanical Engineering, The Institute of Optics). Several of our faculty have also attracted a number of visiting international scholars and students to participate in their research.
On the outreach front, the university's Women in Computing and Minorities in Computing (WiC-MiC) student group earned themselves recognition for their outreach to local high schools and various Girl Scout troops. WiC-MiC received the 2020 Meliora Values Award for Equity from the university (and Rukimani PV the Jane R. Plitt Award for her leadership and advocacy for women in computing). Zhen Bai and Chenliang Xu participated in the GIDS pre-college summer school.  Yuhao Zhu participated in the university's Upward Bound program for math and science.
I pass the baton to Michael with hope, with pride in what we have accomplished, and with knowledge that the department is in good hands and is well positioned to weather this pandemic storm.
Wishing all of you good health.