March Mustache Madness 2008
Original 2008 Call for Participation Email
The skies are gray. The demands of research loom large. But there is hope: with the new year comes the potential for new beginnings... and a new mustache! Yes, once again this year our department will celebrate March Mustache Madness, the annual event in which students, faculty, and staff grow mustaches (or ask Matt Post for a stick-on mustache) to herald the start of spring. You may be thinking "why should I grow a mustache?". The challenge, however, is to ask yourself "why not?". Why not start growing a beard today to keep your face warm during these cold, cold days? Why not shave it down to a mustache on or before March 1st, in a bold and defiant challenge to the long Rochester winter? Why not be a part of the most exciting event that will take place in the grad lounge on the first day of March? And, should genetics or circumstances prevent you from growing a mustache of your own, then why not ask Matt Post for a stick-on that you can wear with pride on the first day of March? If you are interested in participating, please take a look at the department wiki from time to time, as more information will appear in the next few days. On January 7th, we'll be unveiling this year's community-oriented mustache activity via the wiki. Don't miss it! Until then, don't forget to look at pictures from last year and to think about how much joy it will bring to be a part of this year's March Mustache Madness!
* note: since March 1st falls on a Saturday, the official Mustache unveiling and party will take place on March 3rd *
March Mustache Manga
This year we commemorate the 4th annual March Mustache Madness with a new and exciting activity... March Mustache Manga! To participate, simply download a template and add your own captions to create a comic that captures your deepest thoughts about March Mustache Madness. If you prefer, you can create a new comic from scratch. Then post your creation below: Here's the template:
manga template 1
Here's the template as a powerpoint file, for easy addition of text:
manga template 1 (powerpoint)
--
MichaelSpear
- 07 Jan 2008 Here's a mustached version of the template:
manga template 2 (mustaches added)
--
PaulArdis
- 07 Jan 2008
Manga Comics
Chris Brown January 8th 2008
Emily Spear January 9th 2008
Benjamin Van Durme January 11th 2008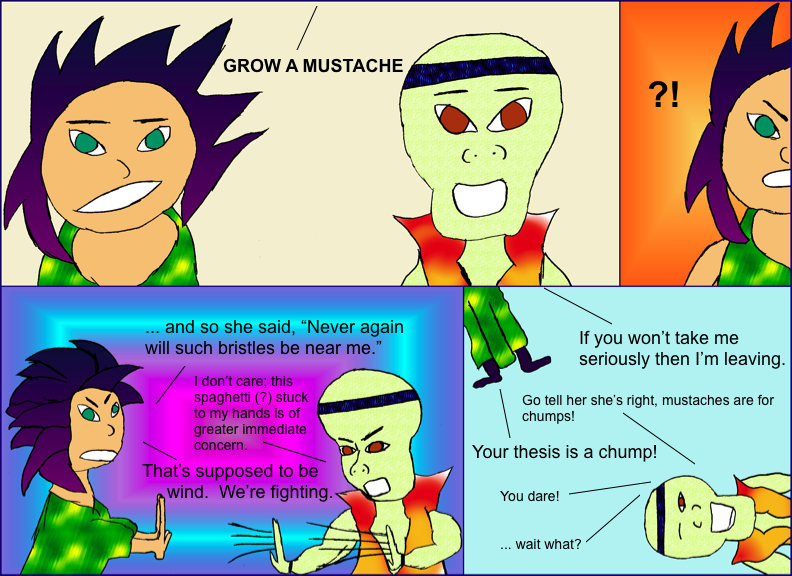 Suzanne Bell January 14th 2008
MattPost February 18th 2008
Photographs
To commemorate the occasion, photographs were taken on the occasion. Here is a group photo of the brave mustache-wearing people.