IMPLEMENTATION OF CASHMERE
Michael L. Scott
Computer Science Department
University of Rochester
Workshop on Scalable Shared-Memory Multiprocessors
October 1996

Outline
Motivation
Key Ideas
Memory Channel Overview
Implementation Overview
Current Work
Future Plans
---
Cashmere People
---
Motivation
Shared memory programming model
Wide hardware spectrum

DSM/SVM
full hardware coherence
options in-between
Hardware is faster, but software
is cheaper
can be built faster (sooner to market, faster processors)
can use more complex protocols
is easier to tune/fix/enhance
is easier to customize
---
The Price/Performance Curve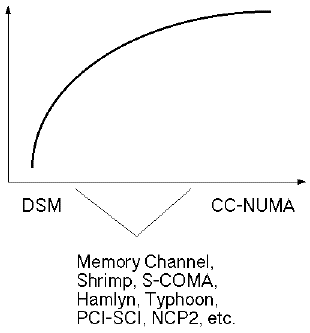 Q: How should coherence work given very low latency user-level messages?
---
Key Ideas in Cashmere
multi-writer release-consistent
write-through to home copy

no twins and diffs (cf. AURC)
dynamic choice of home node
(first touch after initialization)

directories

no intervals and timestamps
Each node has:

sharing set for pages for which it is home
write notices for remote pages that are currently mapped

Wait for write-through at release
send write notices
Invalidate as necessary at acquire
Re-map on page fault
---
Works very well in simulation: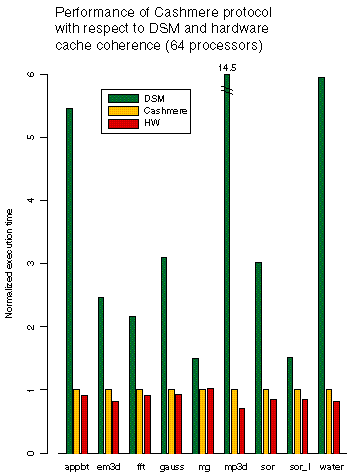 ---
BUT:
This was simulation, on a network that doesn't match any current commercial hardware.
--> Implementation based on Digital's Memory Channel for PCI
4x8 processor testbed
remote-write API (no reads)
I/O space (uncached)
no inter-node coherence, but NI coherent with local processors
global address space; both ends mapped
VM protection
4 us user-user latency
~30 MB/sec per-link bandwidth (~130 MB/sec aggregate)
---
The Good News
reasonable per-link bandwidth
very low latency
low cost (for the network anyway :-)
hardware quite reliable
multicast capability
The Bad News
no remote reads
low aggregate bandwidth (at present)
high page fault and signal overhead in OSF Unix
some resource recovery problems in early kernel software
---
Cashmere MC Highlights
As in simulation, except:
copy to local on page fault (HPCA 96)

receive mapping on home node; transmit mapping elsewhere

``doubled writes'' in software (not stack or global refs)
replicated directory

read locally

no lock needed -- entries small

broadcast updates (HW support)
---
How Should We Read Pages?
interrupts (ouch)
v. protocol processor (current)
v. SW polling (future?) (cf. Shasta)
A protocol processor can also:
batch-execute directory modifications (reduction of sharing set) on behalf of remote acquirer
do most of the work at local release

propagation of write notices
updates of directory entries
compute processor needn't stall

track access patterns and prefetch?
---
Current Priorities
performance tuning (and bug fixes!)
comparison of

TreadMarks (intervals and diffs)
Cashmere (directories and write-through)

Other options:

AURC (intervals and write-through)
directories and diffs

multi-level coherence protocol

exploit HW coherence within each node

problem: how to reconcile remote changes with copy in use by another local processor

message-based on larger net
---
Other Future Work
compiler integration

prescriptive (e.g. to aggregate messages)
descriptive (hints)

fault tolerance (good results for TreadMarks)
heterogeneity
threads
network interface design
OS issues (scheduling, placement, naming, etc.)
---
---

Link to main Cashmere project page

Last Change: 7 November 1996 /