The TRAINS project and its successor, TRIPS, form one of the longest running research efforts on "practical" spoken dialogue: conversation undertaken with a specific task in mind. The TRAINS project had several goals:
Undertake a serious study of human-human spoken dialogue
Build a series of robust research prototypes untrained users could interact with
Use the prototypes as a platform for in-depth research in natural language understanding, mixed-initiative planning, and reasoning about time, actions and events
One of the early achievements of the TRAINS project was the collection of a corpus of task-oriented spoken dialogues, the TRAINS corpus, now available through the LDC.
Over the course of the TRAINS project, a series of demonstration systems were built. The domains for these systems involved routing and scheduling of freight trains, hence the project name. Early systems, such as TRAINS-91 and TRAINS-93 systems, were limited in scope but were important demonstrations of the "doability" of spoken dialogue systems. (These systems are described in James F. Allen et. al., ``The TRAINS Project: A case study in building a conversational planning agent,'' Journal of Experimental and Theoretical AI, 7(1995), 7-48.)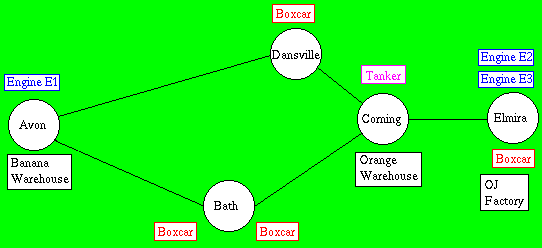 Map of an early TRAINS domain
The TRAINS-95 and TRAINS-96 systems were more robust. (Evaluations were performed of these systems; one is described in Teresa Sikorski and James Allen, ``A Task-Based Evaluation of the TRAINS-95 Dialogue System,'' Proceedings of the ECAI Workshop on Dialogue Processing in Spoken Language Systems, August, 1996.)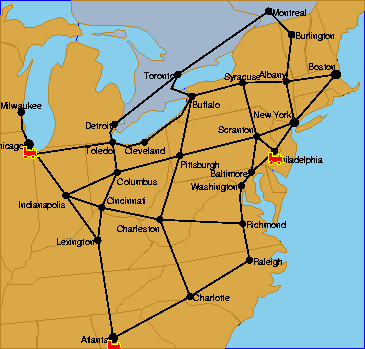 Map of a later TRAINS domain
Several dissertations came out of the TRAINS project:
Eric Ringger ("Correcting speech recognition errors", 2000)
Mark Core ("Dialog parsing: From speech repairs to speech acts", 1999)
Lou Hoebel ("A practical temporal reasoning system", 1997)
Peter Heeman ("Speech repairs, intonational boundaries and discourse markers: Modeling speakers' utterances in spoken dialog", 1997)
Marc Light ("Morphological cues for lexical semantics", 1996)
David Traum ("A computational theory of grounding in natural language conversation", 1995)
George Ferguson ("Knowledge representation and reasoning for mixed-initiative planning", 1995)
Alice Kyburg ("Belief, assertability, and truth: Pragmatic and semantic accounts of vagueness", 1994)
Massimo Poesio ("Discourse interpretation and the scope of operators", 1994)
Nat Martin ("Applying statistical inference to planning under uncertainty", 1993)
Details about TRAINS are available in several papers. A good overview is the following:
James F. Allen, Bradford W. Miller, Eric K. Ringger, and Teresa Sikorski, `` A Robust System for Natural Spoken Dialogue,'' Proceedings of the 1996 Annual Meeting of the Association for Computational Linguistics (ACL'96), June 1996. pp. 62-70.
A more detailed description is:
Ferguson, George M., Allen, James F., Miller, Brad W., Ringger, Eric K., "The Design and Implementation of the TRAINS-96 System: A Prototype Mixed-Initiative Planning Assistant", TN96-5, Computer Science Dept., U. Rochester, October 1996.
For more information, visit our Publications site.
TRAINS was funded in part by:
ARPA and the USAF Rome Laboratory under research contract no. F30602-95-1-0025
The Office of Naval Research under research contract no. N0014-95-1-1088
The National Science Foundation under grant number IRI-9623665