The Noureddine Morceli Home Page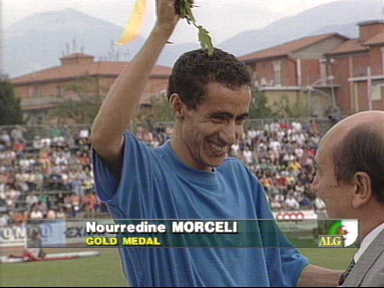 Morceli on the winner's podium at Rieti, 1997, for his 3:31.01 win. From WebRAISport.
This site has been updated (July 3, 2005), check it out! Also: I'm always interested in any information on Morceli, if you have info or stories, please email in (tetreaul AT cs.rochester.edu) .

Who is Morceli? Simply one of the greatest middle distance runner ever. He has won three World Championships in the 1500m and the 1996 Olympics 1500m. At one point, he held all records from 1500m to 3000m, as well as the indoor 1000 and 1500. This site is devoted to chronicling the Algerian's impressive career.
Statistics | Season Reports | Olympics | Quotes | Training | Competition | Honors | Credits | About
03 Jul 2005 - Ten years ago today, Noureddine Morceli set the world record for 2,000 meters at the Paris Gaz de France Grand Prix meet with a time of 4 minutes, 47.88 seconds. The previous record was 4:50.81 by Said Aouita. Hicham El Guerrouj of Morocco currently holds the world record in 4:44.79.

04 May 2005 - Morceli declares he will return to competition (yet again) for the 10000m or marathon, in addition to making a training camp devoted to athletics. Thanks to Carole Fuchs for the link at: El Watan. (Below is the translation courtesy of H. Laroussi):

Athletics: Morceli will return to competition



The athlete Nourredine Morceli announced Tuesday in the City of Chlef that he did not renounce competition and that he will return soon to racing by engaging in the 10,000 m and the marathon.

The former world champion of the made this statement at the time of the reception organized by the wali (administation officer) of the city of Chlef in the honor of the representatives of the press, on the occasion of the world day of the freedom of the press. He was present as a guest of the local authorities there. He moreover announced his intention to create a school of athletics in the area where he was born and where he embraced a top level career. It should be noted that Morceli currently accomplishes a stay with his family in Ténès, Sidi Akkacha, at 50 km in the north of Chlef. Seizing the opportunity of his presence among the journalists and correspondents, He made a point of paying homage to the journalist corporation for the significant role that it plays in the development of the country, and in particular in the sport field.
17 Feb 2005 - Collegiate times for Morceli can be found at Riverside CC's Track All-Time lists. Morceli can be found in events between 800 and 5000m.
01 Feb 2005 - Found these pictures of Morceli signing autographs at an astrophysics observatory in Algeria.
16 Nov 2003 - Latest news is that Morceli is going to the US to do winter training for the Olympics (5000 or 10000). Morceli did not race at all last year even though he said he would run in the World Champs in Paris. (Thanks to H. Laroussi)
16 Jul 2003 - the Algerian National Championships passed this weekend without Morceli's presence. It is unclear if he will participate in the World Champs in Paris in late August since he has not competed (and thus not achieved a qualifying mark) yet this season. (Thanks to H. Laroussi)
1 May 2003 - Delayed news: Morceli was supposed to compete in the Algerian National Cross Country Championships on March 7 in Algiers but did not. Thanks to H. Laroussi for the information.
11 Jan 2003 - Morceli talks about moving up in distance to the 5000 and 10000 and aiming for the World Champs in Paris this year. His interview is in the Algerian newspaper Le Matin here, but it is in French. Go here for a rough translated version. (Thanks to Carole Fuchs for the link..check out her site: Africa's Athletics)
Dec 2002 - At the IAAF awards gala, Morceli announces he will move up to the 10,000m and marathon for 2003. Read more here. (Thanks to Carole Fuchs for the link)
2001 News
12 Sep - good little bio on Morceli in French: here.
23 Jul - Morceli season progressions updated.
20 Jul - Morceli DNF's at Monaco in the 1500m while Rui Silva of Portugal goes on to win in 3:30.36.
18 Jul - Morceli listed on the startlist for the 1500m at the Monaco Golden League meet (this Friday). Morceli's last race was the semi-final in Sydney where he declared he would no longer run the 1500m and move up to the 5000m instead. The favorite in the race is Bernard Lagat of Kenya, bronze medalist at Sydney.
20 Jun - Heir to Morceli's throne, Algerian Ali Saidi-Sief took down Morceli's national record in the 2000m, running 4:46.88 in Strasbourg, France to eclipse Morceli's then WR of 4:47.88. Saidi-Sief, silver medalist in the 5000m at Sydney, went through the kilo in 2:23.77, the 1500 in 3:35.5 and finished 17 seconds of the nearest competitor. For more information click here.
27 May 2001 - El Guerrouj ran the fastest outdoor mile in the US ever: 3:49.92 at the Prefontaine Classic in Eugene, Oregon today. The previous record belonged to Morceli in the Atlanta GP in 1996 (3:50.86). Go here.
2000 News
27 Sep - in the semis, Morceli got bumped and thrown off stride. Out of the race with 80m to go, he jogged it in. Afterwards he declared that this was his last 1500m ever and next year he is definitely moving up to the 5000m. Go to 2000 Season Reports for more information.
25 Sep - running in his first race of the year, Morceli easily qualified for the 1500m seminfinal Tuesday night finishing second in 3:38.41 behind Kenya's Noah Ngeny. All the top guns qualified for the semis save for Portugal's Rui Silva. Here is what Morceli said after his race:


"This is my first race in a year. I have had seven weeks of good training, which has given me the confidence to compete today. I had sickness in my stomach, and this season a hamstring injury which has prevented me from competing. There was a lot of pushing in the race today. Anyone can win the final."
12 Sep - the latest report from the IAAF states that Morceli is entered in the 1500m in Sydney. Whether he plans to actually race or not is another matter. He hasn't raced all year. Here is the report:


11 September 2000 - Sydney - Algeria's 1500 metres Olympic champion Noureddine Morceli will make a surprise defence of his title it was revealed by a member of the Algerian delegation here on Monday.

The 30-year-old, who held the 1500m world record until his great rival Morocco's Hicham El Guerrouj smashed it by over a second in July 1998, has not raced since he fell at the World Championships in Seville last year.

The three-time world champion, who is scheduled to arrive in Sydney on Saturday, was meant to have run at the IAAF Grand Prix meeting in the Italian town of Rieti over a week ago but pulled out.

Morceli has performed disappointingly since his bid to win a fourth successive world title in 1997 was overshadowed by the death of a brother days before the first round heats - he was to finish fourth behind his nemesis El Guerrouj. The first round of the 1500m is on Monday September 25.
14 Jun - an article with Morceli on his switch to the 5000m.
13 Jun - Morceli has decided to run the 5000m at the Sydney Olympics. See article...
8 Jun - has Morceli retired or not? After his DNF at Seville (his last race) it appeared that the great miler might call it a career. An article in the Algerian newspaper "Le Matin" following the Seville race suggested that Morceli may have retired. However, Morceli was spotted at the University of New Mexico (USA) track doing a workout, so he may be back for the Sydney Olympics.
21 Mar - Morceli is among one of 44 athletes up for election to eight spots on the International Olympic Committee. Go to: IAAF web site for more information. Other top contenders include Gabriella Szabo, Sergei Bubka and Stefka Kostadinova.
7 Feb 2000 - Denmark's 800m star, Wilson Kipketer snapped Morceli's remaining world record, the indoor 1000m, by one one hundredth of a second: 2:15.25. Kipketer's performance in Stuttgart eclipsed Morceli's 1992 mark of 2:15.26.
1999 News
21 Sep - CLICK HERE FOR MY ACCOUNT OF MORCELI AT SEVILLE
8 Sep - El Guerrouj snatched Morceli's remaining outdoor world record last night in Berlin. Running cool temperatures, the Moroccan's 4:44.79 pummeled Morceli's 4:47.88 2000m set in Paris July 3, 1995. Remarks from Seville are coming soon.
16 Aug - I'm going to Seville to watch the world championships and Morceli, so this site won't be updated until I get back, September 2. Go to the IAAF web site for results. In the meantime, visit the Statistics section for a lot of the results, splits, have been updated. There are also a ton of 1991 season reports and pictures for your perusing pleasure. The finals of the 1500m go off the night of August 24.


11 Aug - Morceli finished a disappointing seventh in 3:32.19 as Hicham El Guerrouj outdueled Noah Ngeny 3:28.57 to 3:30.28. Morceli wasn't even the first Algerian across the line as 21 year old Ali Saidi-Sief ran 3:30.91 for fifth...(results)
picture couresty of Weltklasse Zurich


8 Aug - Morceli decided not to race at Cologne. The race was won by France's Driss Maazouzi in 3:38.20. Look for Morceli at the Zurich Weltklasse meet on the 11th.
6 Aug - three days after his 3rd place in Monaco, Morceli will be running the 1500m again in Cologne. Notable competition will come from Benjamin Kipkirui. After the Sunday race, Morceli will travel to Zurich to race against Komen, El Guerrouj, and Ngeny, among others, on the 11th. This Saturday, El Guerrouj is returning to London to lower his mile world record.
4 Aug - Morceli turned in another sub 3:31 time to take third at the Herculis Zepter meeting in Monaco tonight. Noah Ngeny won in 3:29.79 with Kenyan US-collegiate Bernard Lagat nipping Morceli in the final meters with a 3:30.61.
28 Jul - 3:32.65 was Morceli's winning time at the Venizeleia International Meeting on the island of Crete tonight. Benson Koech of Kenya was 0.55 behind.
26 Jul - Morceli to run the 1500m in the Venizeleia International Meeting in Chania, Greece on the 28th. The field consists of rabbits Baghdad Racham and Abdelakrim Benzai (both Algerian) and Benson Koech (KEN), Jonah Birir (KEN), Andrea Abelli (ITA), among others...
23 Jul - this just in: a very good article on Noah Ngeny and Noureddine Morceli from the International Herald Tribune. The report details Morceli's car accident and his bid to return to form.
21 Jul - Morceli is back! - more or less. The Mile King ran 3:30.91 to take second behind Noah Ngeny's 3:28.84 tonight in Paris (report1 report2). Morceli hung gamely to Ngeny as the rabbits passed through the 400 in 53.77 and 800 in 1:52.12 and 1200 in 2:48.9. Ngeny pulled away with 200 to go with a 26.7. Morceli's reaction to his 3:30.91:

  "I can't help but to be pleased tonight after seven months of forced 
  inactivity," said Morceli. "I wanted to test my level against that of Ngeny. 
  Now, I have to work on finding the rhythm I had before. I know that there is 
  still a lot to do."
from runnersworld.com
20 Jul - Noah Ngeny is going after ELG's 1500m record of 3:26.00 tomorrow night in Paris. Morceli is also supposed to be in the field: (report)
18 Jul - Morceli was slated to run the 1000m at Nikaia against 3:43 miler Noah Ngeny, but was a no-show at the line. Noah Ngeny went on to record the second fastest 1000m ever (report)...
11 Jul - Morceli opens up the season with a 2:18.10 victory over 1000m at Ingolstadt, Germany. Morceli spent some of the spring training at his altitude camp near Mexico City. Click here for report. (thanks to Stephane Franke and Marco Velediaz for the above information).
10 Jul - rival Venuste Niyongabo (1996 Oly 5000m champ and 3:29 1500m runner) returned from injury today to run a 8:01.8 3000m for second behind Reda Benzine of Algeria (7:51.2)...
7 Jul - El Guerrouj broke Morceli's 6 year old Mile WR by running 3:43.13 in Rome tonight. He was not alone as Kenyan's Noah Ngeny also went under the old standard of 3:44.39 with his 3:43.40. Golden Gala Results.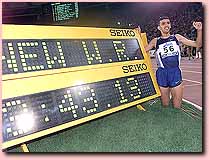 From la Gazzetto dello Sporto
17 Jun - new season reports section that has all press releases, interviews, articles, on Morceli in one place in this site.
16 Jun - Morceli seems to be keeping a low profile this season. He hasn't raced yet even though it is one month into the European track season. The latest he has ever opened up a season was June 21 back in 1991....El Guerrouj has already run 3:31 and 3:32 and young Kenyan Noah Ngeny has two 3:31's and the WL to his credit so far.
10 May - Morceli announced in mid-January that he will be making an all-out bid to recapture World Championship glory. See the press release made to the Algerian News Agency...
2 May - Morceli to contest road mile in Singapore in October. Maroc's Hicham El Guerrouj and Daniel Komen are also on the list of competitors. The winner of the Singapore International Mile will receive $1 million if he goes under Morceli's WR of 3:44.39. More...
18 April - in Cherchell, Algeria, Morceli suffered minor injuries after a car accident on Sunday. The 29 year old track star spun out of control on a bend and was taken to the hospital but according to a medical source was subsequently allowed to return home. (Agence France-Press)
26 March - two days before the World Cross Championships, Morceli pulls out. Reason unknown...
19 March 99 - according to the IAAF Morceli will be competing in the short course World Cross Country Championships this weekend in Belfast. The last time he was at the World Cross Champs was ten years ago where he finished 26th. He finished 9th the previous year (both were the junior race). The IAAF has a detailed report here: here.
1 Sep 98 - Morceli ended the 1998 season with 10 victories, most notable were his Goodwill Games win over Komen and Tanui and his recent Lausanne win over the best of the Kenyans. It should be noted that most of these wins were in smal ler meets and this was his weakest season time-wise since his emergence on the world scene in 1990 as a twenty year old (see progressions). This site will continue to have updates in terms of articles and pictures. Please check out Sean Hartnett's Morceli Olympic Story, the best review of Morceli's 1996 win in Atlanta...
Last year's headlines and quips have been moved to: mor1998.html.
---
Home | Morceli Page | 1997 Rankings | 1996 Rankings | Running Links
Joel Tetreault Email: tetreaul AT cs.rochester.edu