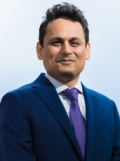 M. Ehsan Hoque
Assistant Professor


Office: 710 Computer Sciences Building
Phone: (585) 275-1351
mehoque at cs.rochester.edu
Web Site
PhD, Massachusetts Institute of Technology, 2013
Areas of Interest:
Human-Computer Interaction, multimodal interaction,  applications of machine learning to gain further insights into human communication, and inventing new applications of emotion technology focusing on health and assistive technology.
Awards:
Best Paper Award at UbiComp 2013.
Best Paper Nomination at FG 2011. 
Best Paper Nomination at IVA 2006.