[ 2002 | 2001 | 2000 | 1999 | 1998 | 1997 | 1996 | 1995 | 1994 | 1993 | 1992 | 1991 | 1990 ]
Noureddine Morceli - 1997 Season Reports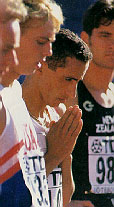 Report List: 
  Hengelo: Prelude to Hengelo  Prelude 2
  Nikaia:  Prelude to Nice
  Nikaia:  Morceli Comes Back with 3:48 Mile
  Athens:  Prelude to Athens
  Athens:  Morceli Works Hard for 1500m Semi-final Win
  Athens:  Prelude to Athens Final
  Athens:  Final 1 Final 2 Final 3 Final 4
  Rieti:   Prelude to Rieti
  Rieti:   Kiptanui and Komen Miss Out on Records
  
Prelude to Hengelo

 March 9, 1997 

PARIS -- Distance maestros Haile Gebrselassie of Ethiopia and Noureddine Morceli of Algeria seek to steal the spotlight from Michael Johnson and Donovan Bailey when they meet in a $1 million race the day before the two sprinters clash.

Gebrselassie, the 5,000 meter world record holder, and Morceli, who holds world marks in the 1,500 and 2,000 meters as well as the mile, will battle it out over the rarely run two-mile distance at the Adriaan Paulen Memorial meeting in the Netherlands on May 31.

The next day, Johnson, Olympic gold medalist in the 400 and 200, and Bailey, the 100 world and Olympic champion, are scheduled to race over 150 meters in Toronto in what is being billed as a battle to decide who is the world's fastest man.

Both will be $1 million winner-take-all races.

The winner of the Gebrselassie-Morceli showdown, however, will also have to become the first man to run two miles in under eight minutes in order to collect.

"He is long distance and I run middle distance. We have not had much opportunity to race," said Morceli at a news conference on the second day of the world indoor championships in Paris on Saturday.

"Now we will come together in the middle."

Gebrselassie, who set a 5,000 world record on the Dutch track in 1994 and a 10,000 mark the next year, has only once run the two-mile distance, posting what remains the world best time of 8 minutes, 7.46 second in 1995. Morceli has never raced the distance.

"It was very bad weather that day and a bit of wind," recalled Gebrselassie, the twice world champion and Olympic gold medalist for the 10,000.

While Morceli indicated he would use the race as part of his build up to the outdoor world championships in Athens in August, Gebrselassie said he would make the $1 million race and the two-mile world record his main focus.

Morceli has been an equally dominant figure in the middle distance events, particularly in the 1,500, claiming three consecutive world titles and the gold medal in Atlanta.

The two close friends have not challenged each other since a 3,000 race in Monte Carlo in 1994 where Gebrselassie pushed Morceli to a world record.

Prelude to Hengelo 2: Track Stars Ready to Dash for Millions

 March 10, 1997 

Depending on who you talk to, the last weekend in May will either be the death of track and field, or else it will steer a promising new course for the sport's professional future.

Adidas announced Saturday that it would sponsor a winner-take-all $1 million race on May 31 between two of its world-renowned clients, Noureddine Morceli of Algeria and Haile Gebrselassie of Ethiopia.

The $1 million prize will be awarded only if the winner runs his two-mile race at Hengelo, Netherlands, in less than 8 minutes, something that has never been done at the rarely contested distance. The next day in Toronto, two Olympic sprint champions, Michael Johnson and Donovan Bailey, will race against each other at 150 meters in a similar, privately sponsored $2 million race. It is hoped by many that the two events will feed off each other.

Adidas will try to promote its head-to-head match as a logical follow-up to Roger Bannister's conquest of the 4-minute mile. Athletic purists will argue that one is a perversion of the other. Bannister was a medical student who trained when he could, and he broke the 4-minute barrier at a small meet in Oxford. Morceli and Gebrselassie are full-time professionals with several world records and Olympic and World Championship titles to their credit.

Their race will be a sanctioned IAAF event as part of the Adriaan Paulen Memorial meet. Pace-setting rabbits will be entered in the race, along with enough also-rans to make the race official.

Athletes and sponsors have been arguing that athletics needs to increase its profile, and that these boxing-style promotions are a good start. Now that the sport is completely professional, with $50,000 prizes being introduced over the weekend at the world indoor championships in Paris, the sponsors are eager to compete for publicity along the lines of other professional sports.

But the age-old protectors of track and field are worried that shoe companies like Adidas and Nike will organize their own competitions to the detriment of Grand Prix meets, the world championships and the Olympics.

The two-mile distance was arranged as a compromise between two Adidas athletes who otherwise wouldn't have raced against each other. Morceli used to hold the world record at 3,000 meters, the closest equivalent to 2 miles. Gebrselassie, however, has set two world records at Hengelo at 5,000 meters in 1994 and 10,000 meters in 1995.

"This is going to be a very, very big race for me and Haile," said Morceli. Depending on who you talk to, the last weekend in May will either be the death of track and field, or else it will steer a promising new course for the sport's professional future.

Adidas announced Saturday that it would sponsor a winner-take-all $1 million race on May 31 between two of its world-renowned clients, Noureddine Morceli of Algeria and Haile Gebrselassie of Ethiopia.

The $1 million prize will be awarded only if the winner runs his two-mile race at Hengelo, Netherlands, in less than 8 minutes, something that has never been done at the rarely contested distance. The next day in Toronto, two Olympic sprint champions, Michael Johnson and Donovan Bailey, will race against each other at 150 meters in a similar, privately sponsored $2 million race. It is hoped by many that the two events will feed off each other.

Adidas will try to promote its head-to-head match as a logical follow-up to Roger Bannister's conquest of the 4-minute mile. Athletic purists will argue that one is a perversion of the other. Bannister was a medical student who trained when he could, and he broke the 4-minute barrier at a small meet in Oxford. Morceli and Gebrselassie are full-time professionals with several world records and Olympic and World Championship titles to their credit.

Their race will be a sanctioned IAAF event as part of the Adriaan Paulen Memorial meet. Pace-setting rabbits will be entered in the race, along with enough also-rans to make the race official.

Athletes and sponsors have been arguing that athletics needs to increase its profile, and that these boxing-style promotions are a good start. Now that the sport is completely professional, with $50,000 prizes being introduced over the weekend at the world indoor championships in Paris, the sponsors are eager to compete for publicity along the lines of other professional sports.

But the age-old protectors of track and field are worried that shoe companies like Adidas and Nike will organize their own competitions to the detriment of Grand Prix meets, the world championships and the Olympics.

The two-mile distance was arranged as a compromise between two Adidas athletes who otherwise wouldn't have raced against each other. Morceli used to hold the world record at 3,000 meters, the closest equivalent to 2 miles. Gebrselassie, however, has set two world records at Hengelo at 5,000 meters in 1994 and 10,000 meters in 1995.

"This is going to be a very, very big race for me and Haile," said Morceli. Depending on who you talk to, the last weekend in May will either be the death of track and field, or else it will steer a promising new course for the sport's professional future.

Adidas announced Saturday that it would sponsor a winner-take-all $1 million race on May 31 between two of its world-renowned clients, Noureddine Morceli of Algeria and Haile Gebrselassie of Ethiopia.

The $1 million prize will be awarded only if the winner runs his two-mile race at Hengelo, Netherlands, in less than 8 minutes, something that has never been done at the rarely contested distance. The next day in Toronto, two Olympic sprint champions, Michael Johnson and Donovan Bailey, will race against each other at 150 meters in a similar, privately sponsored $2 million race. It is hoped by many that the two events will feed off each other.

Adidas will try to promote its head-to-head match as a logical follow-up to Roger Bannister's conquest of the 4-minute mile. Athletic purists will argue that one is a perversion of the other. Bannister was a medical student who trained when he could, and he broke the 4-minute barrier at a small meet in Oxford. Morceli and Gebrselassie are full-time professionals with several world records and Olympic and World Championship titles to their credit.

Their race will be a sanctioned IAAF event as part of the Adriaan Paulen Memorial meet. Pace-setting rabbits will be entered in the race, along with enough also-rans to make the race official.

Athletes and sponsors have been arguing that athletics needs to increase its profile, and that these boxing-style promotions are a good start. Now that the sport is completely professional, with $50,000 prizes being introduced over the weekend at the world indoor championships in Paris, the sponsors are eager to compete for publicity along the lines of other professional sports.

But the age-old protectors of track and field are worried that shoe companies like Adidas and Nike will organize their own competitions to the detriment of Grand Prix meets, the world championships and the Olympics.

The two-mile distance was arranged as a compromise between two Adidas athletes who otherwise wouldn't have raced against each other. Morceli used to hold the world record at 3,000 meters, the closest equivalent to 2 miles. Gebrselassie, however, has set two world records at Hengelo at 5,000 meters in 1994 and 10,000 meters in 1995.

"This is going to be a very, very big race for me and Haile," said Morceli.

- by Ian Thomsen, Inernational Herald Tribune

Prelude to Nice

 July 16, 1997 

Algerian Noureddine Morceli returns to the scene of one of his greatest triumphs today, hoping to kick-start his so-far lacklustre season by breaking his own world mile record.

The 27-year-old Olympic 1,500 metres champion, ranked number one in the world over the mile and 1,500 metres since 1990, has had a poor season by his own high standards.

But he heads for the Nikaia Grand Prix aiming to better the world mile record of three minutes 44.39 seconds which he set nearly four years ago.

It was at this meeting two years ago that Morceli ran a memorable 3:27.37 seconds to set the current world 1,500 metres record - the biggest world record improvement over the distance for 28 years.

But after winning the Olympic title last year, he has made little impact this season.

On May 31st, he dropped out of his much-hyped two-mile race at Hengelo against Ethiopian Haile Gebrselassie after seven laps.

His pre-race comments had hinted he would not be taking the race all that seriously despite the $1 million purse for breaking eight minutes and since then the Algerian has shown little in the way of his usual breathtaking form.

He currently has only the 12th fastest time of the year over 1,500 metres (3:33.98) and, although he has run the year's fastest 2,000 metres (4:54.67), has made no impact over the mile or 3,000 metres. With the world championships fast approaching in Athens next month, his low-key approach may all be part of a deliberate plan.

But with $50,000 on offer for a world record and running on a track he is known to favour, Morceli could well produce some more magic today. With the exception of Gebrselassie, the meeting features most of the world's outstanding middle-distance runners - but none of them are racing against each other.

Denmark's Wilson Kipketer, who equalled Sebastian Coe's 16year-old world 800 metres record last week in Stockholm, runs over 1,000 metres, while Hicham el Guerrouj of Morocco is in the 1,500 metres.

El Guerrouj's compatriot Salah Hissou, whose 10,000 metres world record was demolished by Gebrselassie in Oslo on July 4th, lines up in the 3,000 metres.

While those races could provide some memorable moments on the track, there is also a high-class pole vault field featuring Olympic champion Jean Galfione of France, Ukrainian world record holder Sergei Bubka, South African Okkert Brits, ranked second to Bubka on the all-time list, Russia's 1992 Olympic champion Maxim Tarasov and Tim Lobinger of Germany, who has cleared a year's best of 5.92 metres.

Hassiba Boulmerka of Algeria, who pulled out of the Mediterranean Games a month ago with a leg injury, resumes her preparations for the defence of her world 1,500 metres title with a run in the mile, while the evergreen Merlene Ottey of Jamaica runs in the 200 metres.


Irish Times

Nice: Morceli comes back with 3:48 Mile

 July 16, 1997 

Although he has run a handful of mile times better than his 3:48.64 at the Nikaia Grand Prix meet in Nice, France, yesterday, Noureddine Morceli was pleased with his winning effort.

"I am getting my health back," said the world-record holder who has been struggling to regain form after a bout with anemia. "It is just the beginning of my season."

He will need to be in top form if he is to successfully defend his World Championships title against Hicham El Guerrouj. The young Moroccan made another attempt at Morceli's 1500 record in Nice, and despite coming up short in 3:30.32, no one else in the world has run faster this year. Up-and-coming Kenyan John Kibowen also ran an excellent race, almost catching El Guerrouj with a PR 3:30.44.
Fading Morceli desperate for Fourth Title

 July 28, 1997 

ATHENS (Jul 28, 1997 - 23:33 EDT) - Noureddine Morceli, the 1500 metres outdoor world record holder, will hope to halt the eroding of his previous dominance in the event by retaining his world title for the fourth successive time -- though the odds are heavily stacked against him.

The 27-year-old Morceli, who is coached by his brother Abderrahmane -- no mean runner himself and enjoys the pacemaking services of another brother Ali who set the pace for his 1500 metres record run (3:27.37) in 1995 -- is accustomed to rebounding from a set of bad results.

But this season it has seemed that his mantle of invincibility has been extinguished by the young Moroccan Hicham El Guerrouj.

Morceli, who came back from the bitter diappointment of seventh place in the 1992 Olympic final to breaking the world record later that season and which he bettered three years later, has tasted nothing but defeat since his Olympic triumph last year.

El Guerrouj, who took silver behind Morceli in Gothenburg two years ago, outclassed him in the Grand Prix final in Milan which also resulted in him losing his four year unbeaten run over the distance, and saw his indoor world record blasted apart by his nemesis El Guerrouj in Stuttgart in February -- the effects of these blows have cooled their relationship.

Not surprisingly Morceli, who is also the mile world record holder, has cooled at the prospect of meeting the Moroccan too often and although he denies it it appears he is losing the psychological battle.

He has not been helped this season by suffering from anaemia, a problem that has affected Jamaican sprint queen Merlene Ottey, and was treated for it in Switzerland after he retired midway through his much hyped 'duel' with Haile Gebrselassie in Hengelo in June.

Morceli, who was trounced by El Guerrouj in his first race back from the treatment, is still ambitious to go on breaking records.

But with El Guerrouj dominating the mile and 1,500 metres, a move up to 5, 000 metres, which he has also entered in Athens, could cause him as many problems with Gebrselassie and the 21-year-old Daniel Komen lying in wait.

However only Komen seems likely to make it to the championships.

'I don't see why I can't try it. I won in Zurich over 5,000 metres in 1994 so there is no reason why I shouldn't go for it now. Perhaps its time to move on,' Morceli, a devout believer of Allah, said.

Morceli's slide would certainly suggest that perhaps a fresher distance would re-energise a mentally tired and battle weary athlete who is just hanging in there to see if he can fight one more successful 1,500 metres campaign -- form and the season's statistics dictate that it will be a failure.
Morceli Works Hard for 1500m Semi-final Win

 August 4, 1997 

ATHENS (Aug 4, 1997 - 17:45 EDT) - Noureddine Morceli, bidding for a fourth successive world 1,500 meters title, was made to work hard before winning his semifinal on the third day of the world championships Monday.

Morceli, the world record holder and Olympic champion, could not afford to relax for a moment as Spaniards Reves Estevez and former Olympic champion Fermin Cacho controlled the race from the front until the last few metres when Morceli took the lead.

The Algerian, who was never out of the leading pack won in three minutes 38.82 ahead of Cacho and Estevez, who both clocked 3:38.86.

Morceli's main rival for the title, Moroccan Hicham el Guerrouj, came through his semifinal a few minutes earlier, but had a comparatively less severe test, winning in 3:38.92 to set up what should be a fascinating duel with the Algerian in Wednesday's final.

El Guerrouj, who has run four of the five fastest times of the year, will be especially keen to win the world crown for the first time after his Olympic hopes died in last year's final in Atlanta when he fell in the final.

Kenyan Laban Rotich, the second fastest man in the world this year, also looked in good form and qualified comfortably in 3:38.92.
Morceli says he'll have an epic duel with El Guerroudj

 August 5, 1997 

ATHENS (Aug 5, 1997 - 1997 EDT) - Algeria's 1,500 metres world record holder Noureddine Morceli said here on Tuesday that his battle with Moroccan Hicham El-Guerrouj for the world crown on Wednesday would be an epic.

The 28-year-old Morceli, bidding for a fourth successive world gold to add to his Olympic title, said that despite losing his unbeatable tag over 1,500 metres he would not concede his title easily.

"I feel under no pressure whatsoever. I have come here to win and I still believe I can. El Guerrouj thinks he has won the psychological battle -- well we shall see what happens out on the track," Morceli said.

The 23-year-old El Guerrouj, who tripped over the heels of Morceli at the bell in the Olympic final, said that he was on course for the gold and winning the battle of North Africa.

"I am going to erase the memories of Atlanta. I am going to be the new world champion and I am going to stay there for a long time," El Guerrouj said.

Morceli, whose relations with El Guerrouj have cooled considerably since the Moroccan started beating him, has had to get over the death of his 23-year-old brother Abdelkader, who lapsed into a coma after being knocked over by a car and died on July 26th.

Morceli, who is a small wiry fellow in the same manner of former Moroccan 5,000m Olympic champion Said Aouita, flew to his birthplace of Tenes to be with him and only flew into Athens the night before his first round heat.

"I would like to win this for my brother and the Algerian people. It is personally important to me," he said.

The Algerian, who had shown signs of returning to form prior to his enforced departure for Tenes, has displayed a lack of confidence since El Guerrouj ended his 45 race unbeaten run in the Grand Prix final last year -- there were even accusations that he was avoiding him in the Grand Prix events prior to and after the Olympics.

He failed to finish in his much heralded head to head with Ethiopia's 10, 000m Olympic champion Haile Gebrselassie in Hengelo in May and then disappeared off to Switzerland to be treated for anaemia, a similar illness that affected Jamaican Merlene Ottey.

"I really felt odd and at first I thought it was just jetlag in Hengelo after flying in from training in the United States but I was diagnosed as having anaemia. It took me a while to get back to form after the treatment but now I feel fine," he said.

On Wednesday the two men will battle it out for not only the world title but the tag of king of the blue riband middle distance event.
El Guerroudj Wins

 August 7, 1997

The 1,500m final was a repeat of the Olympic Games in Atlanta, in that Noureddine Morceli and the 22-year-old El Guerrouj were again contesting the gold. The final in Atlanta evoked bitter memories for the Moroccan, after his tangle of legs with Morceli brought him down.

As El Guerrouj fell, his misfortune was Morceli's cue to take control of the race and secure the one major title to have eluded him.

No one denied Morceli the Olympic title he had craved, but as El Guerrouj finished the race five seconds behind the winner, there was a belief that the incident had cheated the world of what might have been one of the great races.

Since then, El Guerrouj has broken the world indoor records in the 1,500m and the mile, and when the outdoor season began he kicked off with 3-29.51 in Hengelo. It was the same meeting in which Morceli, running in the $1 million two-mile challenge against Gebrselassie, failed to finish.

Morceli was suffering from a viral problem, and though he recovered his tribulations had not ended as two weeks ago his brother was killed in a car crash.

Not ideal preparation, then, to take on the youngster of whom he had said when he lost his four-year, 45-finals winning streak at the 1996 Grand Prix final in Milan, that "I think he'll dominate the 1,500m for years to come".

That ascendancy was confirmed last night. Morceli was trailing El Guerrouj at the bell, but when the Moroccan began to accelerate hard, his rival began to struggle. At that stage, it was over and he won in 3-35.83. Fermin Cacho, the former Olympic champion took the silver ahead of his compatriot, Reyes Estevev and Morceli was fourth.

"It was a classic example of a sit and kick race," said El Guerrouj. "My surge was devastating and after that it was just a matter of controlling the race."
Hail the New King

 August 7, 1997

Hicham El Guerrouj of Morocco dominated the 1,500 metres final to gain revenge and take the gold medal. The race had been billed as a showdown between El Guerrouj and his rival Noureddine Morceli, who won the gold at the Atlanta Olympics last year after the Moroccan fell.

Morceli, though, failed to mount a threat to the winner, who was always in control. He ended the race in fourth place after Spain's Fermin Cacho and Reyes Estevez swept past him on the line.

El Guerrouj clocked 3:35.83, Cacho 3:36.63 and Estevez 3:37.26, while Morceli managed 3:37.37.

"I am very proud to have won my first major outdoor title," said El Guerrouj. "It makes up for what happened at Atlanta." He then added: "I am very sorry for Morceli."

Morceli's brother and coach, Abdel Rahman, said the Olympic champion had still not got over the shock of his younger brother's death in a car crash in Algeria two weeks ago.

"He is still very upset. He had a great problem tonight trying to concentrate. If he had run the final 400 metres as he had in training I think the result would have been different," he explained.
From Tears in Atlanta, Moroccan Gains Gold in Greece

 August 7, 1997

ATHENS, Greece -- Hicham El Guerrouj of Morocco was inconsolable, sobbing at Olympic Stadium in Atlanta last summer after falling in the 1,500-meter final, when a conciliatory call came from his king. At that moment, a layer of his pain and his immaturity was scraped away like paint.

"After the call by His Majesty, it was another el-Guerrouj who was born," the runner said, referring to King Hassan of Morocco. "There is no similarity to the el-Guerrouj before this call and the el-Guerrouj right now."

Three times since Atlanta, the reborn el-Guerrouj has run against the man he collided with at the Olympics, Noureddine Morceli, the world record holder from Algeria. El-Guerrouj has won all three times, including Wednesday night at the world track and field championships with a time of 3 minutes 35.83 seconds.

From the beginning of the slow, tactical race, el-Guerrouj remained comfortably near the front in second place. Reyes Estevez of Spain went through 800 meters in 2:02.04, with el-Guerrouj on his shoulder. At 900 meters, el-Guerrouj realized it was "not in my best interest" to hang behind and risk another collision, so he eased into the lead with a kick that was almost as imperceptible as it was unmatchable. Morceli tried to keep up, but el-Guerrouj ran the final 400 meters in 51.45. Entering the final turn, Morceli had dropped five meters behind. Then it was 10 meters, and by the time Morceli entered the homestretch, he had been passed by Fermin Cacho of Spain, the 1992 Olympic champion, who took second in 3:36.63. Just before the finish, Estevez also passed Morceli for third place in 3:37.26.

Eleven days ago, a brother of Morceli's, Abdel Kadir Morceli, died after being hit by a car in Algeria. For four days, Noureddine Morceli left his training base in Switzerland to return home for his brother's funeral. Still apparently distraught, his concentration shattered, Morceli finished fourth in 3:37.37 and left the stadium without speaking to reporters. In truth, Morceli likely would not have won anyway; he has struggled all season to regain the form that made him the 1996 Olympic champion. The world's best miler is now a 22-year-old Moroccon named Hicham el-Guerrouj.

"Atlanta was the black point in my life," el-Guerrouj said. "It's difficult to forget I lost the Olympic title. I cried today because I was so happy. I will be able to forget day after day that I lost the Olympic championship.

In the 1,500 meters, el-Guerrouj and the Moroccan camp had boldly predicted victory over the 27-year-old Morceli. "He's younger and he's stronger and he's faster," Aziz Daouda, the Moroccan national team coach, said of el-Guerrouj on Tuesday. "If he had not fallen in Atlanta, he would have won by 25 meters."

Wednesday night's victory makes el-Guerrouj a star in a Moroccan galaxy that includes Nawal El Moutawakil, who became the first African woman to win an Olympic gold medal with her 400-meter hurdle victory at the 1984 Los Angeles Games, and Said Aouita, who won the 5,000 meters at the 1984 Summer Games. El-Guerrouj might also have achieved Olympic gold, but he clipped Morceli's foot at the beginning of the final lap in Atlanta and crumpled to the track. He recovered but could finish only 12th. "It was an accident," Daouda said, explaining that Morceli had stepped slightly to his right, attempting to force el-Guerrouj to make a wide move if he intended to pass him. In a dressing area under Olympic Stadium, el-Guerrouj was crying uncontrollably when a phone call came from Morocco's King Hassan. It is not the end of the world, the king told el-Guerrouj, explaining that all Moroccans considered him the winner.

"We didn't expect this," Daouda said. "We knew all of Morocco was destroyed. They were watching on TV, waiting for a gold medal. I thought I was in bigger trouble than Hicham. The phone call from the king saved us." And changed el-Guerrouj immeasurably. A boy became a man. "Before that, he was joking in athletics; it was play for him," Daouda said. "After that, he felt how important it was."

A month after the Olympics, el-Guerrouj beat Morceli, breaking his unbeaten streak of 45 races in the mile and 1,500 meters that began after the 1992 Barcelona Olympics. Over the winter, el-Guerrouj also set indoor world records at 1,500 meters (3:31.18) and the mile (3:48.45). Now he is a threat to Morceli's outdoor world records of 3:27.37 and 3:44.39. But that can wait.

Wednesday night, el-Guerrouj wrapped himself in a Moroccan flag as if it were a cape. And he dedicated his victory to King Hassan, the man who had restored his self-confidence.

"After Atlanta, his support was capital for me," el-Guerrouj said.

- New York Times
El Guerrouj's win soothes Olympic disappointment

 August 7, 1997

ATHENS, Greece - As they hit the bell lap together in last year's 1,500-meter final at the Atlanta Olympics, Hicham El Guerrouj and Noureddine Morceli seemed poised for an epic duel.

It not only was Morocco vs. Algeria but the future of the mile vs. the present.

However, the two runners clipped feet. When El Guerrouj fell down, Morceli had a clear path to victory.

Not 10 minutes after the race, King Hassan II was on the phone to El Guerrouj, telling him the country still considered him a champion.

El Guerrouj now has a World Championships gold medal from Wednesday's 1,500. After running away from Morceli and the rest of the field to finish in 3:35.83, he dropped to his knees and kissed the track, close to the place he fell last year.

"Atlanta was the black point in my life for sure,'' El Guerrouj said. "It was difficult to forget I lost the Olympic title. This for sure will make me forget day after day of thinking about the Olympics. I am young. I can go back and win the Olympics.''

El Guerrouj, 22, has interim plans, mainly world records. He set world indoor marks in the 1,500 and mile last winter, and earlier this month ran the second-fastest mile, 3:44.90, just .51 off Morceli's record.

"For me today is historic. It's the beginning of a long time on top,'' said El Guerrouj, who follows Said Auoita of Morocco and Morceli in the line of succession of dominant north African milers.

El Guerrouj was dominant Wednesday in a final without a U.S. entrant. After a slow 800 time of 2:02.04, he took the lead with a 53.59 lap. Then he lengthened his lead at the bell with an incredible last 400 of 51.45.

"That last 500 I showed I was very, very fast,'' El Guerrouj said. "I feel nobody can beat me now.''

Morceli, 27, felt like that once and won 45 races in a row until El Guerrouj beat him after the Olympics. Morceli chased El Guerrouj on the final lap but faded to fourth (3:37.37).

"I feel sorry for (Morceli),'' said runner-up and '92 Olympic champ Fermin Cacho of Spain (3:36.63). "He's not in as good shape as past years.''

Besides injuries, Morceli has had to handle the death of a brother about two weeks ago. "Today was a problem of concentration,'' said Abderahamane Morceli, Noureddine's brother and coach.

El Guerrouj has defeated Morceli three consecutive times.

"I was convinced I was going to be the winner,'' he said. "This win was important after the accident in Atlanta.''


- Dick Patrick, USA Today
Komen Chasing Another Morceli Record

 September 3, 1997 

RIETI, Italy (Sep 2, 1997 - 1997 EDT) -- In a season overflowing with world records in middle and long-distance running, Wednesday night's Rieti meet is not likely to stem the tide.

With its athlete-friendly altitude, hard Mondo track and penchant for providing pacesetters, the Rieti Grand Prix II meet has produced five records in recent years.

This year Kenyan star Daniel Komen, who set the mark for 3,000 meters here in 1996, will go after Noureddine Morceli's mile record of 3 minutes, 44.39 seconds. Morceli set his record at Rieti in 1993.

Komen, winner of the 5,000 at the World Championships in Athens, Greece, last month, set the record at that distance in Brussels, Belgium, Aug. 22.

It was part of a remarkable stretch of running in which seven records fell in 10 days.

Among the casualties was Moses Kiptanui's 3,000 steeplechase mark, which was broken in succession by fellow Kenyans Wilson Boit Kipketer and Bernard Barmasai. Kiptanui will aim at Barmassai's record of 7:55.72 on Wednesday as he tries to reclaim his record.

Komen, 21, failed to qualify among Kenya's powerful runners for the 1996 Atlanta Olympics, and has been making up for that ever since, with best-ever performances in the two-mile, 3,000 and 5,000.

The track in this small town nestled in the mountains 35 miles northeast of Rome has been good to several runners, including Morceli, but this year it could provide the backdrop for disappointment for the Algerian.

Once the world's premier distance runner, the 27-year-old no longer sets standards with stunning regularity. Morceli was here last year when Komen took the 3,000 mark and he'll be on hand Wednesday, to run the 1,500.

For that race, organizers were working late Tuesday to try to lure Hicham El-Guerrouj, the man who ended Morceli's streak of world titles in the 1,500 at three in Athens. If the Moroccan runs, it could be with the intention of breaking yet another Morceli world record.

Cuban triple jumpers Yoelvis Quesada and Aliecer Urrutia, first and third at the world championships, will be at Rieti, as will their countryman Norberto Tellez, silver medalist at 800. Among the women, Algeria's Hassiba Boulmerka, a past Olympic and world champion, heads the 1,500 field.
Kiptanui and Komen Miss Out on Records

 September 4, 1997

Kenyan middle distance kings Moses Kiptanui and Daniel Komen failed in their respective bids to break the 3,000 metres steeplechase and one mile world records yesterday.

Kiptanui, the first man to go under eight minutes for the steeplechase, won his race eight minutes 0.54 seconds, 18 seconds ahead of his nearest rival but well outside the world best of 7:55.72 set by compatriot Wilson Boit Kipketer in Cologne last month.

Kiptanui looked to be on course for the record in the early laps but slowed in the middle part of the race, run on a muggy, overcast evening in the Italian town of Rieti, north east of Rome.

Although he picked up the pace again in the final two laps, leaving second and third-placed Kenyans Jonathan Kandie and Paul Kosgei in his wake, the world record was not threatened.

Komen, the newly-crowned world champion and world record holder over 5,000 metres, failed to shine when he moved down to the mile on a track that has traditionally produced fast times over middle and long distances.

Although he won easily, his time of 3:47.84 was well outside the world best 3:44.39 set by Algeria's Noureddine Morceli on the same track four years ago.

The Kenyans again claimed a 12-3 finish with Julius Kiptoo second in 3:53.53 and John Kibowen third in 3:54.43.

Morceli proved he is by no means a spent force over 1,500 metres by beating a field shorn of world champion Hicham El Guerrouj of Morocco and Venuste Niyongabo of Burundi.

El Guerrouj withdrew from the meeting at the 11th hour while Burundian Niyongabo switched to a specially arranged 2,000 metres race.

Despite the lack of competition, Morceli cruised to victory in 3:31.00, over seven seconds faster than his time in the world championships in Athens last month where he finished fourth.

Niyongabo made a valiant assault on the record for the seldomrun 2,000 metres, finishing in 4:49.00, just over a second outside the time set by Morceli in Paris two years ago.

Algeria's Hassiba Boulmerka, the Barcelona Olympic champion, and Kenyan Jackline Maranga were side by side on the final bend of the women's 1,500 metres. But it was Russia's Olga Nelyubova, coming up from behind, who kicked as she hit the final straight, rapidly opening up a yawning gap to win comfortably in 4:06.44. Boulmerka finished second and Masanga

- Irish Times
---
Home | Morceli Page | 1996 Rankings | 1997 Rankings | Running Links



Last modified: June 16, 1999