El Guerrouj goes for double record
 July 16, 1998
HICHAM El Guerrouj can make it a world record double in Nice tonight, according to Steve Cram.

The Briton, who was at trackside in Rome to see El Guerrouj break the three-year-old world 1500 metres record in 3 min 26.00 sec, believes the Moroccan can reduce the world record for the mile to 3-41, an improvement of more than three seconds on the time set by Noureddine Morceli, of Algeria, in 1993.

El Guerrouj and Morceli's meeting over the classic distance comes on the 13th anniversary of Cram's own 1500m record on the same track on the French Riviera where he beat Said Aouita - El Guerrouj's mentor - to become the first man to break 3-30.

To put the new record in perspective, Sir Roger Bannister would have finished 150 metres behind El Guerrouj and even Steve Ovett would have been 30 metres adrift at the finish.

Cram said: "What I saw in Rome was awesome. This guy can take the world record into another dimension. We used to think that the differential between the 1500m and the mile was something like 17 seconds. Now it is closer to 15, which means that El Guerrouj should be capable of running 3-41 for the mile. I'm only glad that I'm not running now."

Cram, in Rome working for Channel 4's athletics magazine programme, was the first to congratulate El Guerrouj after the 23-year-old picked him out of a crowd of reporters for the first post-race interview.

"Right now, I believe that only the clock can beat me," said El Guerrouj. "My only enemy is Hicham. I came with the intention of breaking the record. I am only at the beginning of my career. There is more I can do."

Organisers of the Bupa Games in Gateshead on Sunday hope that El Guerrouj will have something left for an attempt on Morceli's 2,000m world record.

John Mayock, Britain's top middle-distance runner, who finished 10 seconds behind him in Rome, said: "This guy is not of this planet. This is just the start."

- Tom Knight, Electronic Telegraph

  El Guerrouj Misses Out on Mile Record
  

 July 17, 1998
HICHAM EL GUERROUJ was just a couple of yards short of breaking his second world record in three days last night when he narrowly failed to improve Noureddine Morceli's time for the mile in Nice.

The 23-year-old Moroccan's brave attempt to better Morceli's record of 3min 44.39sec fell victim to some sloppy pacemaking and he was left with too much to do on the last of the four laps.

El Guerrouj, who broke the world 1500m record on Tuesday, crossed the line in 3min 44.60sec, a mere 0.2sec outside the record, but it was still the second fastest mile ever run. He needed to run even-paced laps but was taken round the first 400 metres in 54.43sec and the second circuit in 56.4sec.

Left to run the last 550 metres on his own, the world 1500m champion launched a desperate attempt to rescue the record. Roared on by the crowd, his stride lengthened and his arms pumped frantically as he rounded the final bend. Disappointed though he was, El Guerrouj knows the record will soon be his. It is only a matter of time.

Kenya's Laban Rotich was second in 3min 51.02sec, while Britain's Tony Whiteman clocked a much improved personal best of 3min 51.90sec in third.

Conditions were perfect with the temperature settled at 20ˇc and no sign of the breeze which had blown into the faces of sprinters earlier in the evening.

Despite his glorious failure, there is no let-up for El Guerrouj. He arrives in Gateshead this afternoon in preparation for yet another attempt at removing Morceli's name from the record books at the Bupa Games on Sunday. This time it is the Algerian's 2000m mark.

After that El Guerrouj will join the hurdler, Colin Jackson, in New York for the Goodwill Games.

It was a fabulous night for the Moroccans. The 20-year-old Hasna Benhassi won the women's 800m in a personal best of 1min 58.47sec. Salah El Ghazi held off Kenya's Martin Keino to win the 3000m in 7min 38.58sec and Mahjoub Haida took the men's 800m in a race which featured an inspired performance from James McIlroy, the young athlete from Northern Ireland who ran a personal best of 1min 45.32sec.

The women's 3000m featured an outstanding performance from Zohra Ouaziz, the 28-year-old Moroccan. She outsprinted Ireland's Sonia O'Sullivan round the final lap to win in 8min 28.67sec, the fastest time in the world this year.

- Tom Knight, Electronic Telegraph

  Order is Restored: Johnson and Morceli Wearing Gold
  

 July 22, 1998
Taking their cue from the Goodwill Games marketing slogan, "Where the world's best athletes prove it," both Michael Johnson and Noureddine Morceli did, earning impressive victories in the men's 400 meters and mile, respectively last night. They did so in front of the largest crowd of these Games so far, 9,756, who endured another day of hot, humid conditions.

Johnson, who had been struggling with injuries since pulling up lame in last year's 150- meter match race against Donovan Bailey, powered through the final turn of the one-lap race and crossed the finish line in 43.76. It was the fastest time in the world this year and broke the previous Goodwill Games record by over a second. Johnson was satisfied, but analytical.

"I'm very pleased with the race," he said. "Because of the injuries it's been difficult to gauge how far along I am with my training. My coach and I have learned over the years that consistency breeds consistency, and what we tried to do was remain consistent in my training, style and strategy. I'm definitely on the road to getting back to being as strong as I was last year and in 1996."

There was clearly extra pressure on Johnson to perform. Games organizers made him the central figure in their advertising and promotional campaigns, a fact that wasn't lost on bronze medalist Antonio Pettigrew. "Let's be realistic," said Pettigrew. "He's on all the advertisements, commercials and everything. I couldn't expect for Michael to come here and not be ready to run."

Morceli dominated his competitors in the mile, winning a tactical race in 3:53.39. American Steve Holman lead the race from the gun, towing William Tanui and Paul McMullen behind him. Daniel Komen made the first big move just past 800 meters to take the lead. Morceli responded quickly, following Komen, but didn't take the lead until the bell. Morceli's 56.09 final lap left little doubt as to the outcome. Komen faded to third, and Holman finished last, after falling early in the last lap.

"I'm very happy with my race," Morceli said. "In major championships you don't expect big, big times. My concern today was to defend my title from 1994, because this weather was very hard for fast times."

The heat and humidity took their toll on Americans Paul McMullen and Jason Pyrah, who were both sick to their stomachs after the race. McMullen said he had never worked so hard for a sixth-place finish.

"I was on my game tonight, and ran with them as long as I could. I tried to cover every move they made," said an exhausted McMullen. "I just ran out of gas with 250 to go."

USATF national 1500-meter champion Jamey Harris finished fourth in a personal best 3:55.39.

[cut]


  RunnersWorld Online Morceli Interview
  

 July 27, 1998
Having recently lost his 1500-meter world record to Morocco's Hicham El Guerrouj, Noureddine Morceli of Algeria, the 1996 Olympic champion and three-time world champion, is looking slightly more human these days. He still holds the mile world record (3:44.39), which El Guerrouj just missed when he ran 3:44.60 on July 16 in Nice. Morceli, now 28 years old, has been talking about moving up to the 5000 meters if he cannot improve his 1500 racing. He spoke to reporters after winning the mile at the Goodwill Games on last Tuesday in a "slow" 3:53.39.

Runner's World Daily: Were you happy with your race?

Noureddine Morceli: Yes, I'm very happy with it. In major championships you don't expect big, big times. What was of concern for me today was to defend my title from '94, because this weather was very hot for fast times. Today was very slow and tactical.

RWD: Did the race go according to plan for you?

NM: Yes, exactly what I wanted to do. You can't have pacemakers in championships so I just settled down and was waiting for my last lap to kick.

WD: Were you worried about Daniel Komen on the last lap? NM: No. When I knew it was a slow race, I could use my strong kick. Komen is very strong. I have a lot of respect for him. He is a great athlete. But he is still very young and has a lot of years to go. I was preparing very, very good [for this meet]. I did a 3:50 mile two weeks ago, so I was in shape. I was not worried about the time. If the pace was 3:47 then I would have run 3:47.

RWD: Have you been trying to race yourself into shape this season? NM: I knew exactly where I wanted to be [this year]. You cannot run very fast at the beginning of the season. You do a little bit of specific training, and then you will run very, very fast. That's what I want to do. RWD: Where will you be running next? Will you be running the Golden League meets? NM: Probably I'm at Zurich and Berlin, and probably I'm racing in Lausanne and Stockholm.

RWD: Do you know when you might face El Guerrouj?

NM: I don't know. I have a lot of respect for Hicham. Hicham is such a great athlete. He won't be 24 until September. He has great talent and has many years to go. I will see, because I think I did too much in the 1500 meters, and maybe I'll give it one more try and see what I can do. I believe that I have a lot of chances to run very good in the 5000 meters later on.

RWD: Are you still the world's greatest miler?

NM: I don't know [laughs]. I'm trying to be. I know there are a lot of youngsters coming and that makes it very tough, but I'm trying. I'm trying.

- Dave Monti/RunnersWorld



  Stockholm Grand Prix Meeting
  

 August 5, 1998
No athlete last night managed to add to the 83 world records that have been broken at Olympic Stadium in Stockholm, but plenty of one-carat diamonds were awarded to those who broke stadium records at the Grand Prix meeting.

America's Maurice Greene earned a $10,000 diamond when he blasted away from a high-quality 100 metres field to win in 9.90 seconds. Maria Mutola of Mozambique did the same in the women's 800 metres, taking victory in 1 minutes 56.71 seconds - the fastest in the world this year.

Noureddine Morceli again suggested that his best days may be over when Kenyan John Kibowen out-classed him in the mile, taking victory and a diamond in 3:51.32. It was the first defeat for the Algerian over the mile since 1992.

The final record attempt of the evening saw Moroccan El Mahoub Haida fail to take Sebastian Coe's mark of 2:12.18 for 1000 metres, although he did he did get inside the stadium best of Steve Cram by winning in 2:15.18.

Ireland's Nicky Sweeney proved that he's over injury worries by throwing 64.82 metres - his best of the season - to win the discus at a seperate field-events meeting in Stockholm.



- Ian O'Riordan (Irish Times)


  Stockholm Mile Description
  

 August 7, 1998
  
  Splits: 400m - 55:00 - Thoms; 800 - 1:51.69 - Thoms; 1000m - 2:22 - Kibet; 
  1200m - 2:52.62 - Kibowen. (from IAAF)


  
  I saw the race on the BBC.
  Kibowen was the only "real" runner to follow the pacemakers, and the rest 
  of the pack were 20 meter behind Kibowen once the pacemakers were gone.
  Kibowen held on -just- to finish ahead of Morceli.


  So splits for Morceli probably look more like 1:55 - 1:57.


  
 - Eric Roosendaal


  

  I saw the race and I can tell you that they started with 2 rabbits 
  but only Kibowen tried to follow them, so he got  a 10 metres 
  gap to the group. In front of the group was Morceli during almost 
  all the race. Morceli's last lap (I got 56.6 manual for his last 
  lap) was faster than Kibowen's one but it was not enough to win.


  
 - Antonio Carrasco


  


  Not finished yet: Morceli still could be a contender at Rieti
  

 August 29, 1998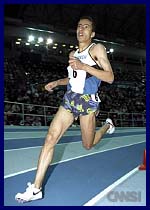 RIETI, Italy (AP) -- Noureddine Morceli is not ready to abdicate. Not completely. The Algerian's reign as the world's premier middle-distance runner may be over, but he insisted on the eve of Sunday's IAAF Rieti Grand Prix meet that he still has one or two years of top performances left.

"As long as I put shoes on my feet there are things I can do," Morceli, 28, said in an interview Saturday. "I have been running very fast for many years. I have ranked No. 1 seven time. I have done everything. When you are 28, 29, 30 you don't have the same strength and speed. But I know I still can produce very fast times."

His optimism may be bolstered by being in this little town nestled in mountains about 55 kilometers (35 miles) northeast of Rome. Morceli twice set world records here.

"It is a special track, it's like it has magic," the Olympic champion said. "Many people have produced fast times here. I feel like I am at home."

When he lines up for the 1,500 meters Sunday, the opponents will not include Hicham El Guerrouj, who clipped more than a second off Morceli's old record for the 1,500 by running 3 minutes, 26 seconds at the Golden Gala meet in Rome last month.

El Guerrouj also ended Morceli's four-year unbeaten streak at the distance in 1996 and took away the Algerian's three-year hold on the world title last year. But El Guerrouj is skipping Rieti to concentrate on the final Golden League series meet, Tuesday at Berlin.

"He has great talent and he's very, very young," Morceli, who still owns the standards for the mile and 2,000 meters, said of his rival. "The way he has been running he is the king of he middle distances right now. I have thought about changing my distance, trying to make my mark in the 5,000 meters. Let's give it another year or two and see. If [my speed] doesn't come back I won't lose anything. I still have what I accomplished in the past."

Morceli has been hampered by tendon injuries this season, but says he's healthy now.

Opting out of Rieti were sprinting and long jump star Marion Jones, and top men's sprinters Ato Boldon and Maurice Greene. Former 3,000 steeplechase record holder Wilson Boit Kipketer pulled out with a back injury, while Heike Drechsler - the newly-crowned European champion and past Olympic and world titlist and record-holder in the women's long jump - was a late scratch because she had to shoot an advertisement for a sponsor, organizers said.

The men's high jump will feature a top-flight battle between world record holder and world champion Javier Sotomayor, Olympic titlist Charles Austin and Poland's Arthur Partyka, who captured the gold at last week's European championships.

Others participating include Olympic pole vault champion Jean Galfion and all three medalists from the shot put at the Europeans (Aleksander Bagach, Oliver-Sven Buder and Yuri Belonog).


- CNN/SI


  Morceli Wins Last Race of Season
  

 August 30, 1998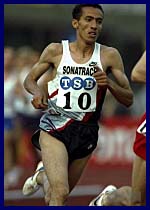 RIETI, Italy (Aug 30, 1998 - 18:31 EDT) -- Noureddine Morceli struggled to win the 1,500 meters, an event he used to dominate, at Sunday's IAAF Rieti Grand Prix meet. He then announced he would not race again this season.

The Algerian, who has set two world records at this track nestled in the mountains about 35 miles northeast of Rome, failed to put away countryman Miloud Abaoub until the final 100 meters and crossed the line in 3 minutes, 33.58 seconds. Abaoub clocked 3:34.47.

"I'm satisfied with winning; that's what's important to me now," said Morceli, the Olympic champion and a three-time world titlist who acknowledged his strength and speed have diminished significantly. "But this is my last race of the year. I need to save energy for next season."

He'll skip Tuesday's Golden League meet in Berlin and the Sept. 5 Grand Prix Final in Moscow.

Two women bettered meet records that had stood since 1988.

Former world champion Maria Mutola of Mozambique won the 800 meters in 1:57.71, which was 0.35 seconds faster than Anna Fidelia Quirot's old standard.

"I ran two days ago (in Brussels), so I'm a little tired but I'm happy with the record," said Mutola, who owns four of the season's top six times. "I know that the day will come that I will lose. I'm only a human being, you know."

Russia's Maria Pantyukhova clocked 8:42.11 in the 3,000 to slash over five seconds off Roberta Brunet's old meet record.

It was an impressive performance on a track that has consistently proven conducive to them.

Six world records have been set here, including Morceli's still-standing mark for the mile in 1993 and a then-record 3:28:86 for the 1,500 the year before.

But Morceli has essentially ceded his title as the world's top middle-distance runner to Hicham El Guerrouj, who set the current 1,500 record of 3:26 in Rome last month.

In other events, African champion Sean Ogunkoya easily won the men's 100 in 10.09 seconds.

Among the men, world record holder Javier Sotomayor won the high jump, Lawrence Johnson of the United States captured the pole vault, and European champion Aleksandr Bagach won the shot put.

Other winners, all in relatively slow times, included Percival Spencer in the 200, Michael McDonald in the 400, Mark Everett in the 800, and Florian Schwarthoff, bronze medalist at the 1996 Olympics, in the 110 hurdles.
---
Home | Morceli Page | 1996 Rankings | 1997 Rankings | Running Links



Last modified: January 1, 2003