News
Jiebo Luo selected as fellow of the National Academy of Inventors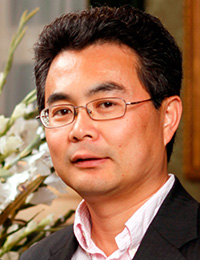 Jiebo Luo, a leading expert in artificial intelligence, has been selected as a fellow of the National Academy of Inventors (NAI). The academy is recognizing Luo and the other inductees for "a prolific spirit of innovation in creating or facilitating outstanding inventions that have made a tangible impact on the quality of life, economic development, and welfare of society."
Luo, the Albert Arendt Hopeman Professor of Engineering and professor of computer science, joined the University in 2011 after working 15 years for Eastman Kodak Co. where he was a principal contributor to the Digital Radiography System and other Kodak products. At the University, his pursuit of new research frontiers in multimedia and computer vision research includes investigating computational inference of sentiment and emotion in images and multimedia and also bridging images and video with language. Luo's more than 500 publications and 5 books, which have garnered more than 42,000 citations, also span natural language processing, machine learning, data mining, computational social science, and digital health.
Luo has been issued 95 US patents. Recent awards include election to Academia Europaea (2022). He is also a fellow of ACM (Association for Computing Machinery), AAAI (Association for the Advancement of Artificial Intelligence), IEEE (Institute of Electrical and Electronics Engineers), SPIE (the international society for optics and photonics), and IAPR (International Association of Pattern Recognition), and has received major technical achievement awards from ACM, IEEE, and Eastman Kodak.
Previous University of Rochester NAI fellows are Duncan Moore and David Williams (2021), Jannick Rolland (2020), Jim Zavislan (2018), Wayne Knox (2017), and Kevin Parker (2016).
Learn how Luo's research group harnessed social media to gauge public opinion about anti-Asian hate crimes.