Undergraduate Research Opportunities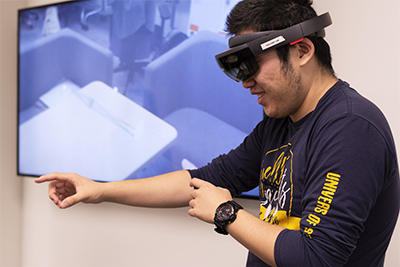 Sifan Ye '20 tests an augmented reality program in Prof. Bai's AR/VR Lab.
There are multiple ways students can get involved in computer science (CS) research. Students can:
Attend any of the regular research group meetings
Attend groups working in natural language processing, machine learning, parallel and distributed systems, theory, robotics, knowledge representation, human computer interaction, etc.
Speak directly to a faculty member about their research area and opportunities for undergraduates
Complete the CS Honors Track (BS students only, see below)
Though many students choose to use independent study research for elective course credit, there are opportunities for undergrads to be paid for the research work during either the school year or the summer.
Faculty often have REU (Research Experiences for Undergraduates) funding to support undergraduate positions. Students can also apply for a summer REU at schools across the country. These typically include a stipend, a housing allotment and a small travel allowance.
Honors Research in Computer Science
Students pursuing honors in research as part of their BS degree in Computer Science must complete the following requirements in addition to their standard degree requirements:
CSC 200H: Undergraduate Problem Seminar

CSC 391H: Independent Study or CSC 393H: Senior Project

CSC 395H: Senior Honors Thesis

Maintain a minimum Major GPA of 3.3 
The typical sequence for obtaining honors is as follows:
Junior Year Spring Term

Take CSC 200H

Find and consult with a Computer Science faculty member who is willing to supervise and guide an honors project

Senior Year Fall Term

Take CSC 391H/393H, typically under the supervision of the thesis advisor 

Begin to formulate and refine research topic for Honors thesis 

Approach a second CS faculty member to serve as a secondary committee member 

Note: You must obtain special permission from the Department Chair to use non-CS faculty members as the secondary committee member 

Senior Year Spring Term

Complete the Thesis Form with your committee members and schedule an appointment with your Staff Advisor to register for CSC 395H 

Write a paper in the style of a scientific journal article and submit a draft to your committee no later than April 15

Present the thesis in a public seminar and successfully defend it in a private oral examination by (at least) the thesis committee and an additional faculty member chosen by the departmental chair
The degree of honors awarded ("honors in research," "high honors in research," or "highest honors in research") is determined by the Computer Science faculty in consultation with the student's honors committee. The quality of the thesis, its presentation, and other Computer Science research and publications throughout the student's undergraduate career are all considered.
Undergraduate Research Opportunities in CS
Please contact faculty members directly about research that interests you.
Students should also see the Office of Undergraduate Research for more information.